Sewell's Voting Rights Advancement Act Passes in the House!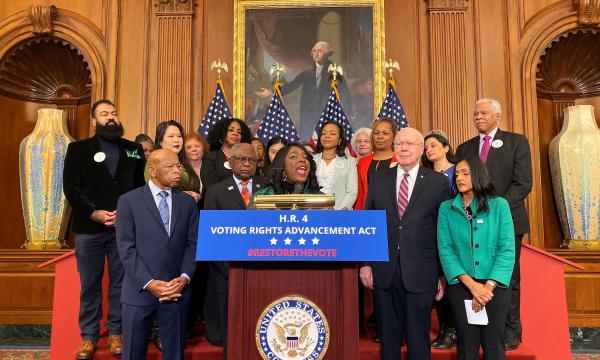 By Adam Powell
Email the author
Published 4:32 pm Friday, December 6, 2019
The Voting Rights Advancement Act, sponsored by U.S. Rep. Terri Sewell, D-AL, cleared the Democrat-led U.S. House of Representatives Friday and is now poised to go before the Senate for final approval – if the Republican-led upper body approves the measure, it will head to President Donald Trump's desk to be signed into law.
The bill cleared by a margin of 228-187 – with the makeup of the U.S. House of Representatives being 233 Democrats and 197 Republicans, the vote was seemingly split down party lines.
The bill was designed to address the U.S. Supreme Court's Shelby County v. Holder decision, which gutted a key provision of the landmark Voting Rights Act of 1965 known as "preclearance."
The 1965 bill required locales with a history of racial discrimination to justify any changes made to voting laws, such as the enactment of voter identification requirements, to either the U.S. Justice Department or the D.C. federal court and established a formula by which such locations could be identified – the Shelby County v. Holder decision nullified that formula and required Congress to adopt a new one.
But Sewell's bill, cosponsored by U.S. Rep. Patrick Leahy, D-VT, restores the "preclearance" requirement by establishing a new formula by which locations with a history of discrimination can be identified and required to clear any voting law changes ahead of time.
"Voting is personal to me, not only because I represent America's Civil Rights District but because it was on the streets of my hometown, Selma, Alabama, that foot soldiers shed their blood on the Edmund Pettus Bridge so that all Americans – regardless of race – could vote," Sewell said following passage of the bill. "I am so proud that, today, the House took critical steps in addressing the Supreme Court's Shelby decision and passed…the Voting Rights Advancement Act to restore the Voting Rights Act of 1965 to its full strength."
On Thursday, with Friday's vote looming, Sewell took to the House floor to rally support for the measure, which she called a "seminal piece of legislation" that will make it "easier to vote, not harder to vote."
"Voting rights are primal," Sewell said from the House floor Thursday. "They are the cornerstone of our democracy. No right is more precious to our citizenship than the right of all Americans to be able to vote. When Americans are not able to cast their ballots, their votes are silenced. And we, especially as elected officials, should be alarmed if any American who wants to cast a ballot is unable to cast a ballot."
Sewell noted that, in the U.S. Supreme Court's decision that axed the 1965 preclearance formula, Chief Justice John Roberts admitted that voter discrimination still exists and the new bill is an effort to "provide a modern-day voter coverage formula that will allow states and jurisdictions with the most egregious forms of discrimination to be require to preclear."
Sewell also invoked the events of decades earlier in her hometown during her floor speech, recalling that foot soldiers – one of which was U.S. Rep. John Lewis, D-GA, who joined Sewell in celebrating the bill's passage Friday – protested and bled on the Edmund Pettus Bridge in their fight "for the equal right of all Americans to be able to vote."
Sewell added that, in her opinion, a number of "voter discrimination laws" have been enacted since the Shelby County v. Holder decision, which originated in Alabama.
Sewell specifically referenced the recent elections in Georgia, in which the secretary of state, a Republican candidate for governor, used his power as the state's top election official to put 53,000 voter registrations on hold, 70 percent of which belonged to black voters, as well as an election in North Dakota in which Republicans established a new requirement that made residents with a P.O. box but no street address ineligible to vote.
decreaseincreaseShareThis Copy and Paste SubscriptionsSelma The MagazineFacebookTwitterInstagramSubmit ClassifiedsServices E-EditionFebruary 24, 2020 52° HOME NEWS SPORTS BUSINESS OPINION FAITH OBITS LIFE & STYLE RECORDS READERS ARE… 50% LAUGHING 50% THRILLED 0% BORED 0% FURIOUS 0% INTRIGUED 0% SAD LATEST STORIES STEAM 'scholarships' handed out to Kingston students Scores show up for SABRA auction Links host annual 'Teen Reenactment' at Selma High Selma Housing Authority celebrates Mardi Gras at Felix Heights Complex Educational Talent Search holds Man-Up Mentoring program at WCCS Sewell's Voting Rights Advancement Act clears House By Adam Powell Email the author Published 4:32 pm Friday, December 6, 2019 The Voting Rights Advancement Act, sponsored by U.S. Rep. Terri Sewell, D-AL, cleared the Democrat-led U.S. House of Representatives Friday and is now poised to go before the Senate for final approval – if the Republican-led upper body approves the measure, it will head to President Donald Trump's desk to be signed into law. The bill cleared by a margin of 228-187 – with the makeup of the U.S. House of Representatives being 233 Democrats and 197 Republicans, the vote was seemingly split down party lines. The bill was designed to address the U.S. Supreme Court's Shelby County v. Holder decision, which gutted a key provision of the landmark Voting Rights Act of 1965 known as "preclearance." The 1965 bill required locales with a history of racial discrimination to justify any changes made to voting laws, such as the enactment of voter identification requirements, to either the U.S. Justice Department or the D.C. federal court and established a formula by which such locations could be identified – the Shelby County v. Holder decision nullified that formula and required Congress to adopt a new one. But Sewell's bill, cosponsored by U.S. Rep. Patrick Leahy, D-VT, restores the "preclearance" requirement by establishing a new formula by which locations with a history of discrimination can be identified and required to clear any voting law changes ahead of time. "Voting is personal to me, not only because I represent America's Civil Rights District but because it was on the streets of my hometown, Selma, Alabama, that foot soldiers shed their blood on the Edmund Pettus Bridge so that all Americans – regardless of race – could vote," Sewell said following passage of the bill. "I am so proud that, today, the House took critical steps in addressing the Supreme Court's Shelby decision and passed…the Voting Rights Advancement Act to restore the Voting Rights Act of 1965 to its full strength." On Thursday, with Friday's vote looming, Sewell took to the House floor to rally support for the measure, which she called a "seminal piece of legislation" that will make it "easier to vote, not harder to vote." "Voting rights are primal," Sewell said from the House floor Thursday. "They are the cornerstone of our democracy. No right is more precious to our citizenship than the right of all Americans to be able to vote. When Americans are not able to cast their ballots, their votes are silenced. And we, especially as elected officials, should be alarmed if any American who wants to cast a ballot is unable to cast a ballot." Sewell noted that, in the U.S. Supreme Court's decision that axed the 1965 preclearance formula, Chief Justice John Roberts admitted that voter discrimination still exists and the new bill is an effort to "provide a modern-day voter coverage formula that will allow states and jurisdictions with the most egregious forms of discrimination to be require to preclear." Sewell also invoked the events of decades earlier in her hometown during her floor speech, recalling that foot soldiers – one of which was U.S. Rep. John Lewis, D-GA, who joined Sewell in celebrating the bill's passage Friday – protested and bled on the Edmund Pettus Bridge in their fight "for the equal right of all Americans to be able to vote." Sewell added that, in her opinion, a number of "voter discrimination laws" have been enacted since the Shelby County v. Holder decision, which originated in Alabama. Sewell specifically referenced the recent elections in Georgia, in which the secretary of state, a Republican candidate for governor, used his power as the state's top election official to put 53,000 voter registrations on hold, 70 percent of which belonged to black voters, as well as an election in North Dakota in which Republicans established a new requirement that made residents with a P.O. box but no street address ineligible to vote. YOU MIGHT LIKE Alabama Department of Corrections graduate 90 correctional officers In a ceremony Thursday at the Alabama Correctional Academy in Selma, the Alabama Department of Corrections (ADOC) graduated 90 new… read more Print Article AROUND THE WEBPowered by Here's How Much Bill Cosby Has in the Bank Today Chilling 911 Calls From Kobe Bryant's Crash Released The Shady Side of Joel Osteen Will Really Open Your Eyes Jason Momoa Is Ozzy Osbourne in 'Scary Little Green Men' Promo Todd Chrisley's Double Life is Finally Out in the Open Jessica Simpson Shares Photo of Backyard View of Kobe Crash 'My 600-lb Life' Stars Who Are Completely Unrecognizable Today The Tragedy of 'Deadliest Catch' Just Gets Sadder and Sadder The 1990's Pepsi Girl is Gorgeous Bombshell Now in Her 20's POLLS Would you ever consider it a good idea of the Selma City School System and the Dallas County School System merging? Yes No View Results NEWS STEAM 'scholarships' handed out to Kingston students NEWS Scores show up for SABRA auction NEWS Links host annual 'Teen Reenactment' at Selma High NEWS Educational Talent Search holds Man-Up Mentoring program at WCCS NEWS Dollar General store in Valley Grande robbed NEWS Authors tell Turner's story NEWS Uniontown's first African-American Police Chief dies NEWS Land transfer approved for Selma Water Works NEWS Medical marijuana bill headed to Senate vote NEWS Probate Judge encourages 2020 Census participation NEWS Candidates 'transparent' in Tuesday radio forum NEWS Financial Audit Draft leads Valley Grande City Council Meeting NEWS Chef arrested on felony theft charge NEWS Sewell hosts resource fair, town hall at VRMC NEWS Links to host Teen Reenactment Friday NEWS Sewell, authors read to students ahead of town hall NEWS Minter Law opens with Mardi Gras celebration NEWS Sky Hill, Purrrfect Pals partner for 'Mardi Paws' event NEWS Chamber seeks to sponsor student for Huntingdon program NEWS American Apparel promotes Lambert to President, CEO NEWS Thomas, volunteers hit city streets in cleanup bid NEWS SABRA Sanctuary to host annual auction Thursday NEWS Dallas County Dems set to host candidates forum NEWS Phillips throws hat in the race for District 4 Commission seat SECTIONS Home News Sports Opinion Business Education Faith Health Life & Style Obituaries Records Classifieds SERVICES About Us Subscribe Terms of use Submit a news tip Submit a photo Birth announcement Engagement announcement Wedding announcement Obituary notice COPYRIGHT © 2020, The Selma Times‑Journal decreaseincrease SubscriptionsSelma The MagazineFacebookTwitterInstagramSubmit ClassifiedsServices E-EditionFebruary 24, 2020 52° HOME NEWS SPORTS BUSINESS OPINION FAITH OBITS LIFE & STYLE RECORDS READERS ARE… 50% LAUGHING 50% THRILLED 0% BORED 0% FURIOUS 0% INTRIGUED 0% SAD LATEST STORIES STEAM 'scholarships' handed out to Kingston students Scores show up for SABRA auction Links host annual 'Teen Reenactment' at Selma High Selma Housing Authority celebrates Mardi Gras at Felix Heights Complex Educational Talent Search holds Man-Up Mentoring program at WCCS Sewell's Voting Rights Advancement Act clears House By Adam Powell Email the author Published 4:32 pm Friday, December 6, 2019 The Voting Rights Advancement Act, sponsored by U.S. Rep. Terri Sewell, D-AL, cleared the Democrat-led U.S. House of Representatives Friday and is now poised to go before the Senate for final approval – if the Republican-led upper body approves the measure, it will head to President Donald Trump's desk to be signed into law. The bill cleared by a margin of 228-187 – with the makeup of the U.S. House of Representatives being 233 Democrats and 197 Republicans, the vote was seemingly split down party lines. The bill was designed to address the U.S. Supreme Court's Shelby County v. Holder decision, which gutted a key provision of the landmark Voting Rights Act of 1965 known as "preclearance." The 1965 bill required locales with a history of racial discrimination to justify any changes made to voting laws, such as the enactment of voter identification requirements, to either the U.S. Justice Department or the D.C. federal court and established a formula by which such locations could be identified – the Shelby County v. Holder decision nullified that formula and required Congress to adopt a new one. But Sewell's bill, cosponsored by U.S. Rep. Patrick Leahy, D-VT, restores the "preclearance" requirement by establishing a new formula by which locations with a history of discrimination can be identified and required to clear any voting law changes ahead of time. "Voting is personal to me, not only because I represent America's Civil Rights District but because it was on the streets of my hometown, Selma, Alabama, that foot soldiers shed their blood on the Edmund Pettus Bridge so that all Americans – regardless of race – could vote," Sewell said following passage of the bill. "I am so proud that, today, the House took critical steps in addressing the Supreme Court's Shelby decision and passed…the Voting Rights Advancement Act to restore the Voting Rights Act of 1965 to its full strength." On Thursday, with Friday's vote looming, Sewell took to the House floor to rally support for the measure, which she called a "seminal piece of legislation" that will make it "easier to vote, not harder to vote." "Voting rights are primal," Sewell said from the House floor Thursday. "They are the cornerstone of our democracy. No right is more precious to our citizenship than the right of all Americans to be able to vote. When Americans are not able to cast their ballots, their votes are silenced. And we, especially as elected officials, should be alarmed if any American who wants to cast a ballot is unable to cast a ballot." Sewell noted that, in the U.S. Supreme Court's decision that axed the 1965 preclearance formula, Chief Justice John Roberts admitted that voter discrimination still exists and the new bill is an effort to "provide a modern-day voter coverage formula that will allow states and jurisdictions with the most egregious forms of discrimination to be require to preclear." Sewell also invoked the events of decades earlier in her hometown during her floor speech, recalling that foot soldiers – one of which was U.S. Rep. John Lewis, D-GA, who joined Sewell in celebrating the bill's passage Friday – protested and bled on the Edmund Pettus Bridge in their fight "for the equal right of all Americans to be able to vote." Sewell added that, in her opinion, a number of "voter discrimination laws" have been enacted since the Shelby County v. Holder decision, which originated in Alabama. Sewell specifically referenced the recent elections in Georgia, in which the secretary of state, a Republican candidate for governor, used his power as the state's top election official to put 53,000 voter registrations on hold, 70 percent of which belonged to black voters, as well as an election in North Dakota in which Republicans established a new requirement that made residents with a P.O. box but no street address ineligible to vote. YOU MIGHT LIKE Alabama Department of Corrections graduate 90 correctional officers In a ceremony Thursday at the Alabama Correctional Academy in Selma, the Alabama Department of Corrections (ADOC) graduated 90 new… read more Print Article AROUND THE WEBPowered by Here's How Much Bill Cosby Has in the Bank Today Chilling 911 Calls From Kobe Bryant's Crash Released The Shady Side of Joel Osteen Will Really Open Your Eyes Jason Momoa Is Ozzy Osbourne in 'Scary Little Green Men' Promo Todd Chrisley's Double Life is Finally Out in the Open Jessica Simpson Shares Photo of Backyard View of Kobe Crash 'My 600-lb Life' Stars Who Are Completely Unrecognizable Today The Tragedy of 'Deadliest Catch' Just Gets Sadder and Sadder The 1990's Pepsi Girl is Gorgeous Bombshell Now in Her 20's POLLS Would you ever consider it a good idea of the Selma City School System and the Dallas County School System merging? Yes No View Results NEWS STEAM 'scholarships' handed out to Kingston students NEWS Scores show up for SABRA auction NEWS Links host annual 'Teen Reenactment' at Selma High NEWS Educational Talent Search holds Man-Up Mentoring program at WCCS NEWS Dollar General store in Valley Grande robbed NEWS Authors tell Turner's story NEWS Uniontown's first African-American Police Chief dies NEWS Land transfer approved for Selma Water Works NEWS Medical marijuana bill headed to Senate vote NEWS Probate Judge encourages 2020 Census participation NEWS Candidates 'transparent' in Tuesday radio forum NEWS Financial Audit Draft leads Valley Grande City Council Meeting NEWS Chef arrested on felony theft charge NEWS Sewell hosts resource fair, town hall at VRMC NEWS Links to host Teen Reenactment Friday NEWS Sewell, authors read to students ahead of town hall NEWS Minter Law opens with Mardi Gras celebration NEWS Sky Hill, Purrrfect Pals partner for 'Mardi Paws' event NEWS Chamber seeks to sponsor student for Huntingdon program NEWS American Apparel promotes Lambert to President, CEO NEWS Thomas, volunteers hit city streets in cleanup bid NEWS SABRA Sanctuary to host annual auction Thursday NEWS Dallas County Dems set to host candidates forum NEWS Phillips throws hat in the race for District 4 Commission seat SECTIONS Home News Sports Opinion Business Education Faith Health Life & Style Obituaries Records Classifieds SERVICES About Us Subscribe Terms of use Submit a news tip Submit a photo Birth announcement Engagement announcement Wedding announcement Obituary notice COPYRIGHT © 2020, The Selma Times‑Journal decreaseincreaseShareThis Copy and Paste